WE BEGIN BY LISTENING
We encourage a highly collaborative design process—seeking to gather diverse voices and perspectives to examine current realities, define immediate and aspirational goals, and tackle complexity head-on. We thrive in facilitating a human-centric design process that requires engaged listening with an ear tuned to the needs of individual end-users, as well as the larger community.
JUST AS DESIGN IS A RESPONSIVE ENDEAVOR, IT MUST ALSO BE A LISTENING ENDEAVOR.
RESPONSIVENESS, RESPECTFULNESS, RELEVANCE
In all projects we carry a "design attitude" that positions us to be highly responsive to our client's needs, goals, and aspirations; respectful of—and to—the community in which a project resides; and relevant to broader societal values and progress.
From a highly active, yet humble listening process, we embark on a journey of discovery to define and articulate our client's vision, aspirations, and measurable criteria for success
AN ITERATIVE DESIGN PROCESS
Innovation surfaces when individuals with diverse experiences and backgrounds collaborate to conceive simple, practical solutions built upon other simple, practical solutions.
We explore ideas with discipline by asking "How could this space better work for you?"; "What have we not yet considered?"; and "What if…?".
Throughout planning and design, we intentionally create space for people to find their voice and contribute ideas that will fulfill the overarching goals and aspirations.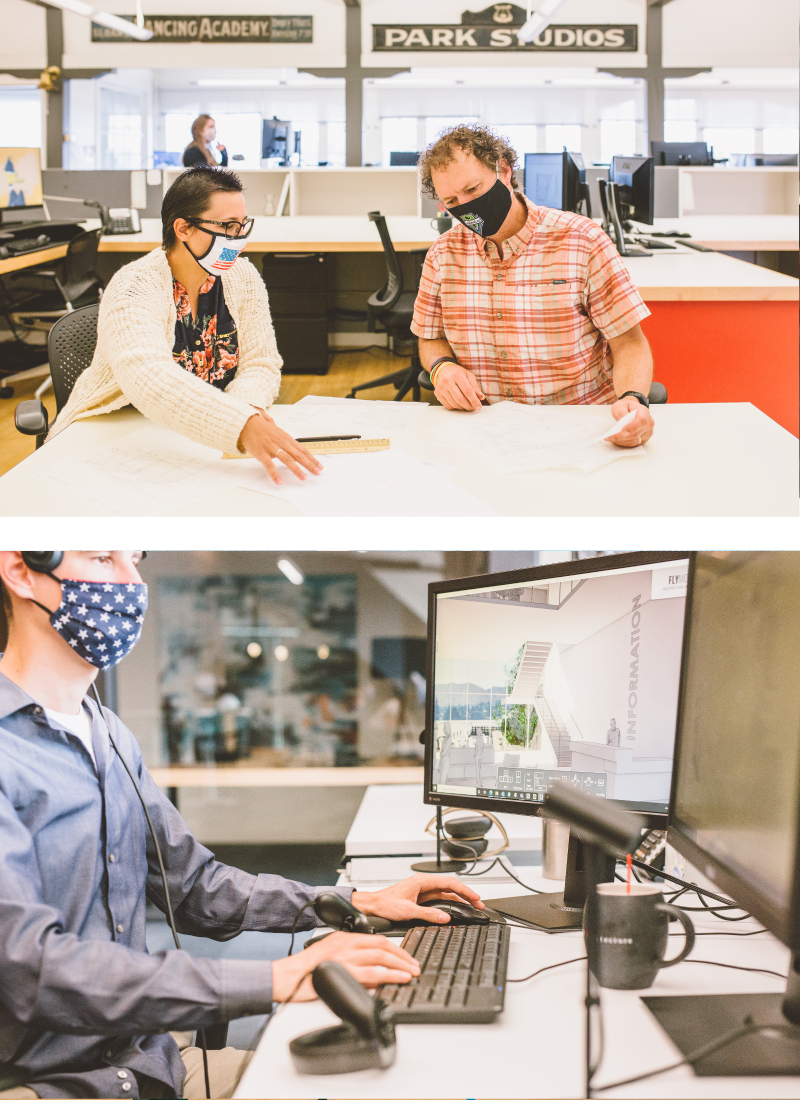 Architectural and Design Services
Our "craft" is multi-dimensional, requiring a high degree of commitment, responsibility, discipline, skill, and personal passion. TCF's architectural planning and interior design services encompass the following:
Needs Assessment, Feasibility Studies, & Master Planning
Public Information Management Assistance & Community Outreach
Coordination of Multi-Disciplinary Consulting Teams and Consultant Documentation
Educational Specifications
LEED/WSSP Documentation, Credit Tracking and Submittal
Sustainability Consulting & Design
Site Assessment Services
Existing Document Review, Existing Conditions Field Verification, and Documentation
Predesign through Construction (Bid) Documents Preparation & Coordination
Construction Administration, Close-Out, and Warranty Follow-Up
Furniture and Equipment Procurement Assistance
BIM (Building Information Modeling): Revit Software
Rendering and Animations
Graphic and Signage Design
Physical Model Building
Virtual Reality
LOOKING FORWARD
Because we design for future users—and future generations— we are careful not to rest simply on what we know (or think we know).
TCF explores and embraces evolving technologies and tools to help clients and stakeholders envision spaces while inviting the opportunity for unexpected "aha!" moments that lead to forward-thinking solutions.
OUR COMMITMENT TO "IMPROVE COMMUNITIES" HELPS SHAPE THE FUTURE.