Randy Cook, AIA, LEED AP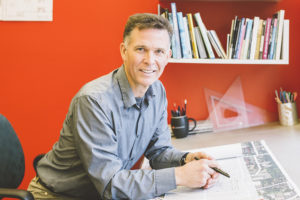 Managing Principal Randy Cook brings an enthusiastic, fully-engaged approach to projects of every size. He masters plans and designs large and small-scale projects, leading the research and development of maintenance & operations facilities for public infrastructure clients.
Randy is recognized throughout the Puget Sound Region as a leader in planning , designing, and implementation of maintenance operations and administrative facilities for public clients, including transit districts, power, sewer and water utilities, public works street & road maintenance departments, parks maintenance departments, port districts, and the military. He leads a highly-participatory approach to working with stakeholders, helping clients set short and long term goals; analyze existing operations; determine facilities needs; evaluate optional sites and concepts; establish comprehensive budgets and schedules; and through his stewardship, ultimately achieve facilities that serve the public well into the future.
A sample of Randy's current and recent projects includes:
Chelan County PUD
50-Year Strategic Facilities Plan
Pierce County Public Works & Utilities
East County Maintenance Facility (ECMF)
Clark County Public Works
Strategic Facilities Master Plan
City of Shoreline, Washington
North Maintenance Facility
City of Sammamish
City of Tacoma
Police Fleet Maintenance Facility (Adaptive ReUse)
City of Seatac
Public Works & Parks Maintenance & Operations Facility
City of University Place
Public Works & Parks Maintenance & Operations Facility
Port of Tacoma, Washington
11th Street Building Deconstruction
Horizon Lines Office Remodel
Totem Ocean Trailer Express Terminal Expansion
Port of Olympia
Tumwater Town Centre Long-Range Master Plan
Tumwater Town Centre Site Redevelopment and Building Renovations
Sound Transit
Jefferson Transit Authority
Kitsap Transit Authority
North Base Master Plan & Land Use Permitting
North Base Fuel, Wash & Park & Ride
Cowlitz Transit Authority
Facilities Master Plan and Governance Study
Phase 1 Facilities Study
Mason County PUD#3
Washington Army National Guard