/* TEMPLATE AREA */?>
/*content area one*/?>
A campus redevelopment for staff and crew at Rocky Reach Hydroelectric Complex along the Columbia River.
Campus Plan:
Part of a larger strategic plan by Chelan County Public Utility District (CCPUD) to upgrade their hydroelectric support facilities, Rocky Reach Central Maintenance's (RRCM) scope included the construction of two new buildings (CM22 and CM24) and renovation of several others. Organized along a singular circulation drive paralleling the river, RRCM's new buildings further accentuate and form an "industrial main street".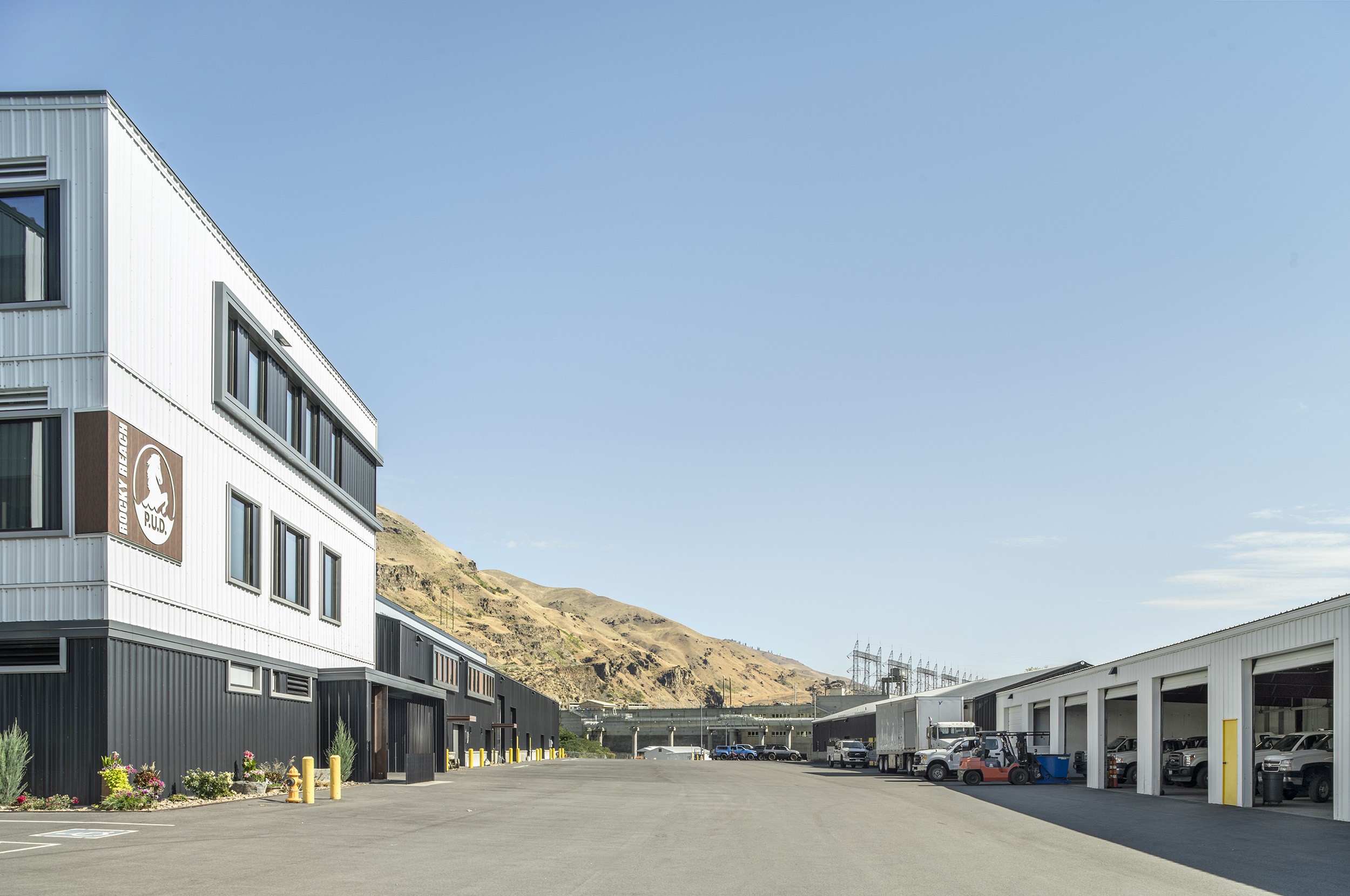 CM24 – OFFICE AND CREW BUILDING:
CM24 is a new 20,240 SF, three-story steel framed crew and office building attached and adjacent to CM22. The first level offers convenient access for the Central Maintenance crews to access locker and shower rooms, a fitness room, and connections to the shops and warehouse buildings. Level two provides a spacious 100-person multi-use break room, conference rooms and foremen offices, while the third level supports engineering and administrative offices with impressive views of the Columbia River and Rocky Reach dam.
CM22 – SHOP BUILDING:
CM22 is a new 26,400 SF, pre-engineered high bay metal building structure designed with two 25-ton bridge cranes to handle the enormous size and weight of hydroelectric components. The building program includes a climate-controlled machine shop, tool crib, and other support spaces.
Design Inspiration:
"Industrial Mod", coined by the design team, is an interior concept inspired by the mid-century modern design of the Rocky Reach Discovery Center and the industrial utilitarianism of Rocky Reach Dam. A contemporary fusion of industrial design and mid-century modern moves is found throughout the buildings, blending a material palette of metals, various wood finishes to create warmth in certain people spaces, broad strokes of color and exposed structure, and unexpected, whimsical moments of reused hydroelectric components ("site artifacts") accenting both interior spaces and exterior entry points.
/* END TEMPLATE AREA */?>